I haven't been in much of a bloggy mood lately. Maybe its that my house is a disaster zone of construction and half-finished sewing projects. Maybe its because I am trying to focus on other things. And maybe its because I'd rather be in the moment than capture it.  When I read this post by Sydney a few weeks ago, it truly hit home.  It reminded me of this post, in which the author says, "I want to return to the days when I didn't feel the need to "keep up" with the Internet. Where less truly was more, where editorial calendars didn't exist and the words "I should totally blog this" were never uttered. I miss the days when blogging itself was my muse. When the simple act of sharing something I stumbled upon was the joy itself…" (if you haven't yet, go. click on that link. read the darn post.)
I'd love to share things I do…crafts, DIY, etc. But sometimes, I feel like no one would read it because its been done already, or because I am not *the* blogger to read on that authority or because I am not featured (for the 467th time) in some big blogger's instagram top 4 to follow (yes. we know those blogs exist. you do not need to tell us they are amazeballs and we should totes follow them).
I am feeling salty today. Sorry.
I love blogging. I do. And I will continue to blog. But I won't miss out on what I deem comes first: my marriage, my job as a mom, and my job of running this home seamlessly.
While I am sharing posts I find refreshing, I thought I'd share a little pretty with y'all as well.
I don't often fall for current trends when it comes to home decor, but I am totally loving the whole felt ball thing.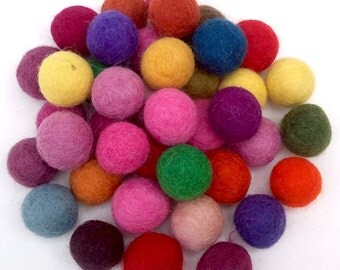 A gorgeous set from Hello Maypole recently made their way into my home, and I have plans to use some of my many, many skiens of yarn to make some on my own (found this super easy tutorial)
I just love anything by Aedriel Originals. This mug could be a good way to brighten this gal's not-so-bright mornings (who me? not a morning person?). Just sayin'.
I've long been a pinner of pretty paper things, like tags, wrappings, cards, and whatnot. But I've never actually gone beyond putting pretty paper on a package.


This year, I vow to change that. Mostly inspired by Anthropologie's It's a Wrap page (drool), I vow to make my pins come to life on presents.
(dude. i love this)
Simple, non-fussy, beautiful holiday decor.
This blogger on Name Bubbles compiled some ideas she found on other blogs. I love that they can all easily be made with things that I either already have or can purchase on the cheap.

DIY garland via a blogger on Minted's Julep blog.
In the spirit of the holiday season, I just want to share that while times can be hectic and crazy, its important as ever to slow down, remember this time and enjoy it, and keep on keepin' on. In other words, don't forget to workout (its a great stress-buster!). Indulge in the goodies … but still stick to your lifestyle.
Cheers!


linking up with Alissa of Rags to Stitches